·Model KM hand valve is a manually operated diaphragm stop valve for one-way flow control.
·Model KM hand valve is mounted on the liquid, air suction and hot air piping in the refrigeration, cold storage and air conditioner.
·Two types of connection are available for Model KM hand valve, that is, threaded connection (SAE) with threading size 1/4 SAE to 3/4 SAE and welded connection both ODF, structure hand valves ha

ve connection size 1/4" to 7/8".
·All Model KM hand valves are equipped with mounting hole for the installation on the instrument panel.

| | | | |
| --- | --- | --- | --- |
| Model | Flare | Welded(with copper tube) | Kv(㎥/h) |
| KM-1/4 | 1/4 SAE | 1/4 ODF | 0.28 |
| KM-3/8 | 3/8 SAE | 3/8 ODF | 0.30 |
| KM-1/2 | 1/2 SAE | 1/2 ODF | 1.30 |
| KM-5/8 | 5/8 SAE | 5/8 ODF | 1.80 |
| KM-3/4 | 3/4 SAE | 3/4 ODF | 3.65 |
| KM-7/8 | —— | 7/8 ODF | 3.65 |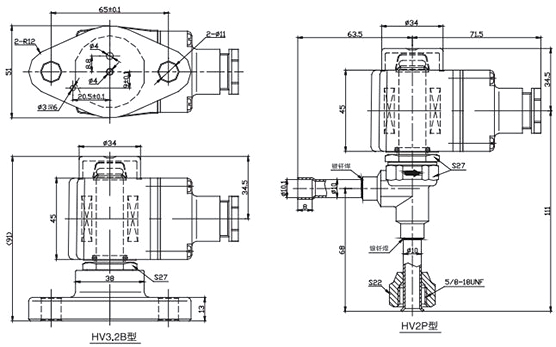 1、screw; 2、hand wheel; 3、valve stem; 4、valve bonnet; 5、copper sheet; 6、valve element; 7、diaphragm; 8、spring; 9、valve body; 10、dust cap; 11、v nut(piping nut)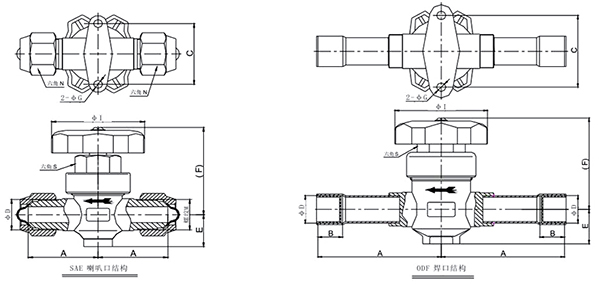 Model

Overall Dimension

A

B

C

ΦD

E

(F)

ΦG

ΦI

S

N

Thread M

1/4 SAE

28.5

——

36

——

14

(53)

Φ4.5

Φ53

S18

S17

7/16-20UNF

1/4 ODF

51

7

6.5

——

——

3/8 SAE

31

——

——

S22

5/8 -18UNF

3/8 ODF

59

8

9.7

——

——

1/2 SAE

39

——

38

——

19

(57)

Φ5

S22

S24

3/4 -16UNF

1/2 ODF

66

10

12.8

——

——

5/8 SAE

39

——

——

S27

7/8-14UNF

5/8 ODF

74

14

16.1

——

——

3/4 SAE

50

——

50

——

24

(64)

Φ6

Φ60

S27

S32

1-1/16-14UNS

3/4 ODF

80

16

19.122.3

——

——

7/8 ODF

80

17



Φ71
——
——